These books are available from your local independent bookseller, directly from the publishers, or online.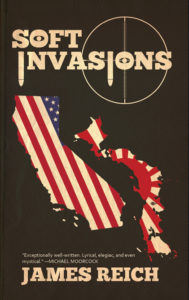 SOFT INVASIONS
Anti-Oedipus Press, 2017
$12.99 Paperback
$5.99 E-Book
Click cover to order.
"In his exceptionally well-written novel, at times lyrical, elegiac, and even mystical, James Reich asks some profound questions about time and identity. This fast-paced book is a meditation on history and human relationships which will keep you thinking and reading to the last page." – Michael Moorcock.
Los Angeles, 1942. Psychoanalyst Maxwell McKinney and his wife Joan await the return of their son after the sinking of the USS Yorktown. With sections of the city under camouflage and ordinances against "enemy aliens," McKinney is troubled by his ambivalent feelings for his son and fears that California will be invaded by the Japanese. A chance encounter with a man who appears to be his double, a screenwriter named Sid Starr, allows McKinney to confront his guilt. Entwined with McKinney, Starr finds that his own identity is at stake, and between the two, McKinney's wife and son fight against their own destruction.
Punctuating great American fears, James Reich targets the zones of recent history where worlds and anxieties collide, among them UFOs, the Battle of Midway, Hollywood, psychoanalysis and Japanese internment. Soft Invasions is an existential thriller about cowardice, cruelty and betrayal that invokes David Cronenberg's body-horror classics as well as the cold California glamor of Joan Didion, the ominous noir of Horace McCoy, and the psychic angst of Norman Mailer.
This edition features an afterword by literary and media theorist Laurence A. Rickels.
---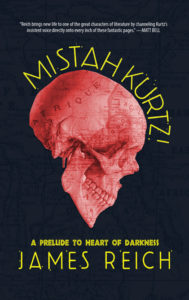 MISTAH KURTZ: A PRELUDE TO HEART OF DARKNESS
Anti-Oedipus Press, 2016
$14.95 Paperback
$7.95 E-Book
Click cover to order.
"In Mistah Kurtz! James Reich turns back the clock to give that eloquence fresh room, bringing to new life one of the great characters of literature by channeling Kurtz's insistent voice directly onto every inch of these fantastic pages." – Matt Bell.
Mistah Kurtz: A Prelude to Heart of Darkness discloses the contents of the papers that Kurtz entrusts to Marlow at the end of Joseph Conrad's canonical novella. Drawing on clues left in Conrad's account, the novel anticipates and dovetails with the arrival of Marlow at Kurtz's ivory station in the Congo. Giving voice to one of the most enigmatic characters in the literary canon, Reich presents meticulous and controversial solutions to the origins, mystery and messianic deterioration of Mistah Kurtz: company man, elephant man, poet, feral god. Appalling rivalries, murder, fragile loyalties, doubt and desire shroud the pages of this book-part adventure, part desperate confession. Filtering the strangeness of Apocalypse Now! and historical accounts of the ivory trade, this irreverent, audacious endeavor lends meat and madness to the ghosts of the Congo, names that which had been nameless, and renders this Season in Hell in crystalline clarity.
---
"Somewhere between the macho-hipster fantasies of Quentin Tarantino and the banshee-activist theatrics of Pussy Riot dwells Varyushka Cash…Now that's entertainment." – New York Times Book Review.
Bombshell is a nuclear thriller set twenty-five years after the 1986 Chernobyl disaster, in which an alienated young Russian woman born in its shadow undertakes a road trip across the U.S., waging a guerrilla war against the nuclear industry and leaving in her wake a trail of destruction and assassinations. Obsessed with would-be Warhol assassin Valerie Solanas, Varyushka Cash recreates her atomic past through escalating violence and her one true goal: an assault on the Indian Point nuclear plant on the bank of the Hudson River. All along she is relentlessly pursued by the CIA, eager to capture Varyushka on charges of domestic terrorism. The cat-and-mouse chase leads to a final showdown in a decimated and irradiated New York, there on the cusp of a frightening new future.
---
"This one'll have you clenched in a fetal position for a century, relieved only by the occasional orgasms of its mellifluous prose. You have to be strong to read this book: it rains fireballs." —Andrei Codrescu.
Judas Iscariot is the historical symbol of betrayal. But what really happened at the Garden of Gethsemane? What really compelled Judas to hang himself from a tree? I, Judas reimagines Iscariot's relationship to Jesus Christ and explores Judas's orchestration of the elaborate con of the divinity of Jesus Christ, subverting the legend of Judas as he inhabits some of our most notorious literary and historic figures in their darkest hours. Custer, Sexton, Van Gogh: These famous suicides converge through the figure of Judas in a cutting-edge piece of fiction that exposes the dangers of seeking universal truths in myth.
---
OTHER PUBLICATIONS:
THE 1960s: A DECADE OF MODERN BRITISH FICTION, edited by Philip Tew, James Riley & Melanie Seddon
Bloomsbury, 2018
Hardcover, Paperback & E-Book
Click cover to order.
Includes James Reich's "Inner Space Odyssey: Suburban Spacemen and the Cults of Catastrophe".
The 1960s were the "swinging decade": a newly energised youth culture went hand-in-hand with new technologies, expanding educational opportunities, new social attitudes and profound political differences between the generations. This volume explores the ways in which these profound changes were reflected in British fiction of the decade. Chapters cover feminist writing that fused the personal and the political, gay, lesbian and immigrant voices and the work of visionary experimental and science fiction writers. A major critical re-evaluation of the decade, the book covers such writers as J.G. Ballard, Anthony Burgess, A.S. Byatt, Angela Carter, John Fowles, Christopher Isherwood, Doris Lessing, Michael Moorcock and V.S. Naipaul.
---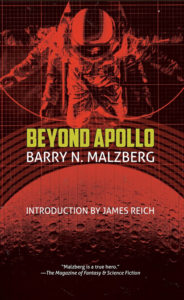 BEYOND APOLLO, Barry Malzberg
Anti-Oedipus Press
Paperback & E-Book
Click cover to order.
Introduction by James Reich
Two astronauts travel on the first manned expedition to the planet Venus. When the mission is mysteriously aborted and the ship returns to Earth, the Captain is missing and the First Officer, Harry M. Evans, can't explain what happened. Under psychiatric evaluation and interrogation, Evans provides conflicting accounts of the Captain's disappearance, incriminating both himself and lethal Venusian forces in the Captain's murder. As the explanations pyramid and the supervising psychiatrist's increasingly desperate efforts to get a straight story falter, Evans' condition and his inability to tell the "truth" present terrifying expressions of humanity's incompetence, the politics of space exploration, and the intricate dynamics of psycho-sexual relations . . . Originally published in 1972, BEYOND APOLLO incited controversy, polarizing critics and fans despite winning the first John W. Campbell Memorial Award for Best Science Fiction Novel. Always disinclined to sell out or compromise his vision, Malzberg became disillusioned with the SF genre, which purported to be THE genre of innovation. Paradoxically, many SF editors and publishers worried about unsettling readers' comfort zones and insisted that authors write in accordance with a set of rules, formulas and codes. Malzberg would neither heel nor kneel; disillusioned, he unofficially retired from the genre in the late seventies and hasn't looked back. What he produced as a science fiction writer, however, remains among the best published during the twentieth century-important in its historical context, but also entertaining and thought-provoking in its own right. Dark, acerbic, funny and smart, BEYOND APOLLO may be Malzberg's greatest accomplishment. This special anti-oedipal edition includes an introduction by novelist James Reich and a study guide that will prove especially useful in classroom settings.
---
Hardcover and Paperback
Click cover to order.
Includes James Reich's "A Giant Triloite in the Desert: Spaceport America and the Voices of Time"
Deep Ends 2016 is a full-size, full colour anthology featuring 27 of today's top J.G. Ballard scholars, artists, and informed Ballardians. Contents include: "Ballard/Baxter/Ballard: In Conversation", by Fay Ballard and Jeannette Baxter, "Empires of the Self: J.G. Ballard's Autobiographical Novels", by D. Harlan Wilson, two poems by Richard Brown — "Super-Mare" and "Afterwords", "J.G. Ballard's Elaborately Signalled Landscape': The Drafting of Concrete Island" by Chris Beckett (includes 10 pages of manuscript, including Ballard's screenplay of Concrete Island), "Ballard, Wyndham and the English Disaster Story Tradition", by Dominika Oramus, "A Ballard/Moorcock Chronology: 1963-1965" by David Pringle, "J.G. Ballard & the Ethics & Aesthetics of the End of Time" by Elana Gomel, "Love Triangle of the Hermaphrodite: Dali, Ballard and Theroux" by Lawrence Russell, "Ballardian Topographies" by David Manley, "Waste in J.G. Ballard's Urban Disaster Trilogy" and "The Ben Wheatley and Amy Jump Rendition of High-Rise" by Rachele Dini, "J.G. Ballard's Adventures in Potential Literature" by David Paddy, "Nature Recaims Her Own: J.G. Ballard's The Drowned World" by Adrian Tait, "Testing Reality: A Middlesex Routine", an interview by Bernard Sigaud, "A Giant Trilobite in the Desert: Spaceport America and The Voices of Time" by James Reich, "An Atrocity Stockist: My Experiences Selling J.G. Ballard's Works in Britain's Mainstream Bookshops, 1984-2016", by Stephen Andrews, "The Speculative Turn and J.G. Ballard's Extro-Science Fiction", by Andrew Wenaus, "The Colonial Imaginary in Verne, Roussel, Jarry and Ballard", by Paul March-Russell, "The Poetics of Studio 5, The Stars", by Paul Green, "J.G. Ballard and Me" by Val Vale, "His Closest Friend: A Profile of Christopher Evans" by Mike Holliday, "Helen Remington, The Daily Mail and the Car Crash Sex Film" by Raymond Tait, "Interview With Sam Scoggins" by Rick McGrath, "Women from a Distance" by Pippa Tandy, a 1991 JGB interview by Paul Di Filippo, and "The Greatest TV Show On Earth" by Bea Ballard.

Hardcover & Paperback.
Click cover to order.
Includes "Hello Baudrillard" by James Reich
Introducing Deep Ends: The J.G. Ballard Anthology 2015, a 300-page, full-size, full-colour collection of work by and about J.G. Ballard. Deep Ends 2015 features an in-depth analysis of the first two manuscript pages of Crash by British Library archivist Chris Beckett — the pages are reproduced here for the first time — plus Bernard Sigaud's recent finding of the original JG Ballard English-language preface to the Danish edition of The Atrocity Exhibition, long considered lost and reprinted here with Sigaud's exhaustive history of the elusive "Forord". But wait, there's more! The book's contents include:  • Ana Barrado — 14 amazing shots of Las Vegas  • Andrew Frost — "Infinite Possibilities of the Sky: Expanding the Balladian Aesthetic" • Benjamin Noys — "Conceptual Weapons: Ballard's Futures"  • David Pringle — "Chronology: Ballard/Moorcock 1955-1962" • Dominika Oramus — "The World of Simulacra: JG Ballard, Philip K. Dick, Jean Baudrillard" • Feroze Alam — Six post-apocalyptic paintings • James Reich — "Hello Baudrillard"  • Jeannette Baxter — "Uncanny Forms: Reading Ballard's Non-Fiction" • John Boston — "JG Ballard's Second Wave of Short Stories, 1959-1964" • Matt Smith — "The Work of Emotion: Ballard and the Death of Effect"  • Mike Holliday — "A Home and a Grave: An Alternate Reading of 'The Unlimited Dream Company'" • Paul Green —  "Staring Down the Eye of the Cyclone: The Wind From Nowhere" • Pippa Tandy — Writing World War III: JG Ballard's Field Guide to the Cold War"   • Theo Inglis — "Yesterdays Tomorrow is Not Today: JG Ballard and 'This is Tomorrow'" • Valentina Polcini — Ancient Mariners of Inner Space and Robinson Crusoes in Reverse: Literary Myths in JG Ballard's Science Fiction"